Saina Nehwal: A true sporting legend
For badminton champion Saina Nehwal, newly crowned world number one, it's been a tough climb to become a sporting legend in a country that is looking to make its mark in sports other than cricket.Being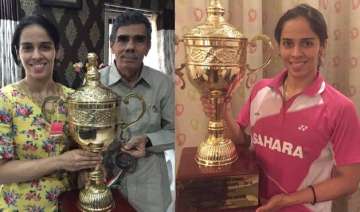 India TV Sports Desk
April 01, 2015 12:52 IST
For badminton champion Saina Nehwal, newly crowned world number one, it's been a tough climb to become a sporting legend in a country that is looking to make its mark in sports other than cricket.
Being World No. 1 at the age of 25 is, indeed, no cake walk. The glory comes with its own baggage of struggles. When asked how did she take things…the glory, the fame, the name? She simply said, "I can't believe it…. I want to keep doing well".
"It's a great day for me... It's a big day ... It's an awesome day ... I am the first woman from India to become World No. 1... Wow!" Saina said excitedly while giving an interview to Delhi Times.
ALSO READ: Saina creates history, becomes world no. 1 shuttler
A few years ago, after winning three back to back tournaments in 2009 and 2010 when she became the world number 3, she had said, "I am not perfect, but if I can be World No. 3, I can become World No. 1 as well."
Coming back from the past, she said, her focus is not on the numbers game. "If I stay focused on the game, the other things (rankings) will fall into place," she has said.
However, it wasn't an easy game for the young Hyderabadi lass. As she exclaimed, "I was World No. 9 last year. It has been a difficult journey".
"I never thought that in seven months, I would be World No.1. I am glad I have achieved this…. Everyone dreams of being World No. 1 ­ I had that dream too and it has come true," she added.
ALSO READ: Thought of quitting badminton after last year's worlds: Saina Nehwal
Without any qualms, the right-handed champion credited her rise in ranking to her coach Vimal Kumar. She said it was he who helped her create history.
"The credit for my success goes to Vimal. He has worked very hard to train me. He even lost a lot of weight in the process! Also, Prakash Sir's inputs have helped me a lot," she said.
Not many may know that Saina calls her parents soon after achieving something, though she couldn't do it after becoming World No. 1. However, after having spoken to them a little later, she said in excitement, "My mom and dad are very simple people. Today, I am World No. 1, but they are like `Beta, did you have food?' and other similar questions, but I am sure they are very happy. They don't show it as they believe I can achieve a lot more."
The new queen of Badminton was hailed by everyone on her victory. Tweets and wishes poured from every corner of the world.
From Prime Minister Narendra Modi, to God of cricket Sachin Tendulkar, to Bollywood biggies like Farhan Akhtar; everyone showered praises and wishes on her.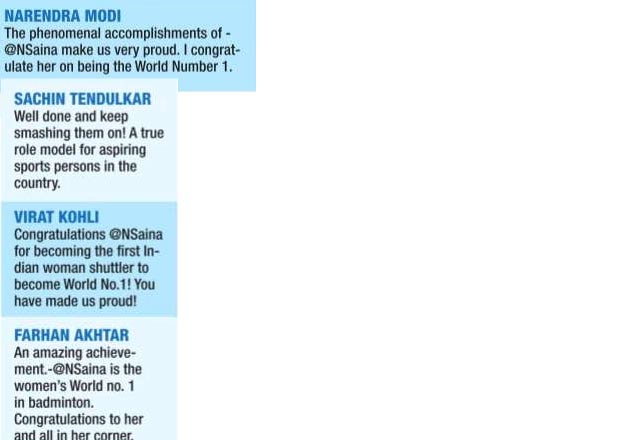 Yet, her simple world, unaffected by the luster of her glory, revolved around her dearest ones – her mother and father. Of success, she attributed it all to her coach and mentor Vimal.
Now, this is what we call a true sportsmanship!