Toronto Awarded 2015 Pan American Games
Toronto was awarded the 2015 Pan American Games at a ceremony in the Mexican city of Guadalajara on Friday. In a secret ballot, the Pan American Sports Organisation voted for the Canadian city which failed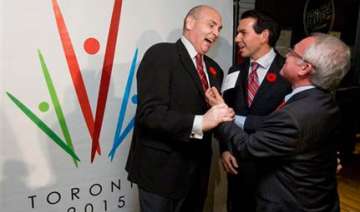 PTI
November 07, 2009 12:32 IST
Toronto was awarded the 2015 Pan American Games at a ceremony in the Mexican city of Guadalajara on Friday.
In a secret ballot, the Pan American Sports Organisation voted for the Canadian city which failed twice to land the summer Olympics. 
Toronto, which failed twice in bids to land the summer Olympics, was selected to host the 2015 Pan American Games on Friday. 
Toronto won on the first round with 33 votes, eliminating Lima, Peru, which received 11, and Bogota, which earned 7.  One vote of the 52 was null.
"It's a moment of tremendous celebration for us, in Toronto, Ontario and Canada. It's also a moment of great humility to know that we won this honour today," said Dalton McGuinty, the Premier of Ontario. 
He later claimed Toronto was "the most diverse city in the world" and joked with the local media that he wanted to prove "that our South American athletes are better than your South American athletes". 
The Toronto delegation was headed by Mayor David Miller and McGuinty.
Canada has held the event twice, in Winnipeg in 1967 and 1999.  The 2007 games were in Rio de Janeiro, which served as a springboard last month for its winning bid for the 2016 Olympics.
In its presentation on Friday, Toronto emphasised that many of the facilities needed for the games were already built.  Officials suggested their option was "risk free" and said they were planning to build an athletes' village and an aquatic centre, no matter the outcome of the vote.
"We know we're going to have amazing games" Canadian Sports Minister Gary Lun said in a news conference after the announcement.
The vote came in the shadow of problems facing Guadalajara, which is to hold the 2011 games.
Mexico's second city is facing major delays in organisation.  On Thursday, Guadalajara officials were given two weeks to come up with a guarantee to pay $ 50 million  if the Mexican city fails to deliver on its promise to host the games.
Toronto officials said the games would be held from July 10-26, 2015, with the Parapan American Games set for August 7-14. 
The first Pan American Games were held in 1951 in Buenos Aires, Argentina. Of the 42 member nations of the Pan Am Sports Organisation, only 10 have hosted the event.  AP