With stellar record, Sindhu confident against Shixian
New Delhi: World top-10 shuttler Pusarla Venkata Sindhu will take an impressive 3-0 head-to-head against former World No.1 Shixian Wang of China when they meet in the $250,000 India Open Super Series opener at the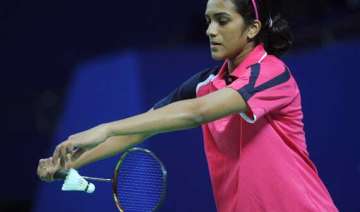 IANS
March 20, 2014 17:54 IST
New Delhi:
World top-10 shuttler Pusarla Venkata Sindhu will take an impressive 3-0 head-to-head against former World No.1 Shixian Wang of China when they meet in the $250,000 India Open Super Series opener at the Siri Fort Sports Complex here April 2.
The World No.9 has been handed a tough draw in the country's premier badminton tournament but the Indian is confident of her chances against the current World No.3 and reigning All-England champion, having beaten her in the Swiss Open quarterfinals only last week.
"It will be a good match again. I kept pacing Shixian at the Swiss Open and I believe I can beat her again. Defeating her last week in Basel gives me a lot of confidence going into the India Open," Sindhu told IANS from Hyderabad on her return after playing in the All-England and Swiss Open.
"The Chinese strategy is to keep the bird in play for long rallies and I am game for it. I am ready playing the Chinese at their own game and it worked for me against Shixian and that gives me confidence to take her on."
Sindhu, however, suffered back-to-back defeats at the hands of Chinese rising star Sun Yu at both All-England and Swiss Open. While she was ousted in straight games in the first round at Birmingham, Sindhu gave a tough fight to Sun in the Swiss Open semifinal, but lost the three-game encounter, going down 19-21 in the decider.
"It was a good match and I played well against Sun in Basel. I could have won but that last point was close and it could have gone either way. But I have played her enough number of times to know her game. I can hope to beat her next time we play," said the 18-year-old Hyderabadi, who has a 2-3 record against Sun.
"Sun's height is her advantage. There wasn't any pressure on me as such. At the All England too, it was close in both the games. If I had won a game, I would have had a good chance in the decider."
The World Championship bronze medallist will not be defending the Malaysia Grand Prix Gold title next week, her first GP victory, because of a crammed calendar.
"I would have loved to play in Malaysia but there are so many other tournaments lined up. We have the India Open followed by the Singapore Open, then the Badminton Asia Championships and the Thomas and Uber Cups. So it is pretty crammed," Sindhu said.
The Arjuna Awardee has found a new passion in life -- Yoga. She says it has helped her to become more patient.
"I have had a few yoga sessions and they have really helped me both mentally and physically. On court too, I am more patient and calm," concluded Sindhu, who will be taking her second year B.Com exams before playing the India Open.