Cristiano Ronaldo beats Lionel Messi to win Ballon d'Or for fourth time
Real Madrid forward Cristiano Ronaldo has won the prestigious Ballon d'Or for a fourth time, beating his Barcelona's Lionel Messi to bag world football's top individual prize for 2016. Ronaldo, who previously won the award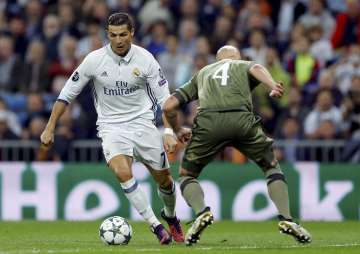 Source: PTI
India TV Sports Desk
Madrid (Spain)
December 13, 2016 6:34 IST
Real Madrid forward Cristiano Ronaldo has won the prestigious Ballon d'Or for a fourth time, beating his Barcelona's Lionel Messi to bag world football's top individual prize for 2016.
Ronaldo, who previously won the award in 2008 as well as in 2013 and 2014, when it was officially the FIFA Ballon d'Or, is only the second player to win it a total of four times, trailing only Messi's record of five.
Only Ronaldo and Messi have been voted the best in the world since 2007, when Kaka won the prize. France Football will announce the runner-ups to Ronaldo later Monday.
he 31-year-old Ronaldo was picked from a list of 30 players by a group of international journalists selected by the French magazine, which for the previous six years awarded the coveted prize in partnership with FIFA. Soccer's governing body, which relies on the votes of coaches, team captains, journalists and _ for the first time _ an online poll of fans, will be handing out its own award in January.

Ronaldo, who recently said he is going through the best period of his life, is receiving the Ballon d'Or award a month after his contract with Madrid was extended until 2021, keeping him in Spain until he is 36 years old.

It has been an up-and-down season for Ronaldo so far, but he couldn't have finished the previous one more strongly.

Ronaldo converted the decisive penalty kick in a shootout against rival Atletico Madrid in the final of the Champions League, helping the Spanish powerhouse win the tournament for the second time in three seasons. Ronaldo also won the Champions League title with Manchester United in 2008.

Ronaldo scored a record 11 goals in the group stage of the European competition last season and finished with a total of 16, one short of the record he himself set in 2014. He is the tournament's all-time leading scorer with 95 goals, and is two away from becoming the first player to score 100 goals in European club competitions.
It was with Portugal that Ronaldo achieved one of his greatest feats, helping the nation win its maiden European title after several close calls, including a runner-up finish at home in 2004 when it lost to Greece.

Ronaldo scored one of the goals for Portugal in the 2-0 win over Wales in the semifinals at Euro 2016, then watched from the bench as his teammates defeated France 1-0 in extra time. Ronaldo played only 25 minutes of the final at Stade de France in July before being substituted because of a left-knee injury.
It was the first major international trophy for both Ronaldo and Portugal.Ronaldo is with Real Madrid in Japan to play in FIFA's Club World Cup.
AP inputs