80 percent of FIFA World Cup tickets sold
Rio de Janeiro: More than 80 percent of the tickets available during the penultimate World Cup sales phase have been sold out within a day.According to football's governing body FIFA, 284,597 of the 345,000 on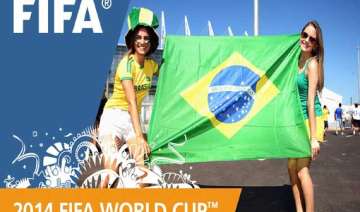 IANS
March 14, 2014 13:49 IST
Rio de Janeiro:
More than 80 percent of the tickets available during the penultimate World Cup sales phase have been sold out within a day.
According to football's governing body FIFA, 284,597 of the 345,000 on offer were purchased in the first 24 hours after the sale began Wednesday, reported Xinhua.
Demand was highest among the US fans, who bought 20,981 tickets, followed by Colombia (5,901), Australia (5,793) and Argentina (4,648).
The current sales period is expected to last until April 1. A last-minute ticketing phase will start on April 15.
The World Cup will be held in 12 Brazilian cities from June 12 to July 13.