Boca Defeats River Plate 1-0
Mendoza, Argentina , Jan 30 : Boca Juniors defeated Argentine archrival River Plate 1-0 on Sunday in their second friendly match in four days.Pablo Mouche scored from a header in the 29th minute in a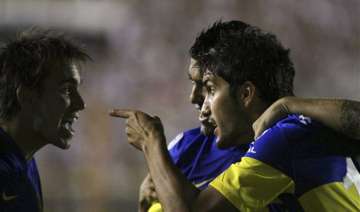 India TV News Desk
January 30, 2012 9:23 IST
Mendoza, Argentina , Jan 30 : Boca Juniors defeated Argentine archrival River Plate 1-0 on Sunday in their second friendly match in four days.

Pablo Mouche scored from a header in the 29th minute in a match that Boca controlled.

Boca beat River Plate 2-0 on Wednesday with two goals from Nicolas Blandi.

The matches at Malvinas Argentinas stadium were played between the end of the Apertura football season and the start next month of the Clausura season.

River Plate was demoted seven months ago to the second division, which wiped out its regular showdown with first-division champion Boca Juniors.
To keep the rivalry going, the clubs scheduled the two friendlies with the first and second divisions taking time off during the Argentine summer.