Brazil's Alberto banned for doping
Rio de Janeiro:  Vasco da Gama midfielder and 2004 UEFA Champions League winner Carlos Alberto has been banned for one year for doping.Brazil's superior sports justice tribunal found Alberto guilty of using banned substances, hydrochlorothiazide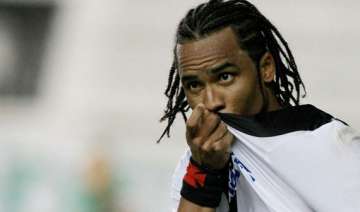 IANS
August 30, 2013 11:12 IST
Rio de Janeiro: 
Vasco da Gama midfielder and 2004 UEFA Champions League winner Carlos Alberto has been banned for one year for doping.
Brazil's superior sports justice tribunal found Alberto guilty of using banned substances, hydrochlorothiazide and metabolic tamoxifen, the 28-year-old's lawyer Guilherme Rezende said Thursday, reports Xinhua.
Rezende said the case could be taken to the Court of Arbitration for Sport (CAS) in Switzerland. "I want to analyse the decision with the player and his family because I think we need to consider the hypothesis of appealing until the last instance."
Alberto tested positive to samples taken after Vasco da Gama's 3-2 victory over Fluminense March 2.
Hydrochlorothiazide is known as a masking agent while metabolic tamoxifen blocks the production of the female hormone estrogen.
A teenaged Alberto played a key role in Jose Mourinho's Porto side that won the 2004 Champions League. He scored the opening goal of the final against Monaco that set the tone for Porto's 3-0 victory in Gelsenkirchen, Germany.
.