Champions League :Chelsea defeats Galatasaray to reach quarterfinals.
LONDON :  Samuel Eto'o and Gary Cahill scored first half goals as Chelsea turned in a dominant performance to beat Galatasaray 2-0 on Tuesday and reach the Champions League quarterfinals with a 3-1 victory on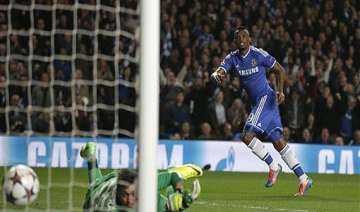 India TV News Desk
March 19, 2014 8:47 IST
LONDON :  Samuel Eto'o and Gary Cahill scored first half goals as Chelsea turned in a dominant performance to beat Galatasaray 2-0 on Tuesday and reach the Champions League quarterfinals with a 3-1 victory on aggregate.
Galatasaray's former Chelsea striker Didier Drogba made no impact on his return to Stamford Bridge, being reduced to a minor role like the rest of his teammates in the second leg match of the last 16.
Playing his first game at Chelsea since his last kick for the Blues won a penalty shootout with Bayern Munich in the final two years ago, Drogba received a warm welcome from the home fans.
But Eto'o quickly stole the spotlight, opening the scoring from a tight angle in the fourth minute. Cahill doubled the lead from close range in the 42nd.
In the night's other match, Cristiano Ronaldo scored twice as Real Madrid beat Schalke 3-1 at the Santiago Bernabeu to reach the quarterfinals with a 9-2 rout on aggregate.
Chelsea midfielder Frank Lampard was delighted with side's performance in west London.
"It was everything we wanted it to be. We knew it was going to be a tough game and they hardly threatened," Lampard said. "It was a very controlled, very professional performance from all of us,"
 All eyes were on Drogba as he entered the pitch to start his warm-up at a nearly empty stadium. The Ivory Coast forward did not change his usual routine, touching the grass and crossing himself before joining his teammates.
After being lured from Marseille by Chelsea manager Jose Mourinho, Drogba scored 157 goals in 341 appearances for the London club between 2004-12 and was voted the greatest player in the club's history.
As teams entered the pitch before kickoff, Drogba pointed a finger towards the Chelsea kop where a banner reading "Drogba Legend" had been unfurled. He then ran to the touchline to give a handshake and a kiss to his former mentor Mourinho.
Though the spotlight was on Drogba, Eto'o soon gave Chelsea a perfect start to the game. Eden Hazard linked up well with Oscar to release the ball for the Cameroon striker, who fired past goalkeeper Fernando Muslera.
Wesley Sneijder struggled to build any attacks from midfield for the visitors, while Eto'o created further danger from the right flank before his attempted cut-back was blocked by defenders.
Drogba then tried his luck from the edge of the box but his acrobatic volley ended well over the bar.
Toying with defenders with his usual frenzied pace and dribbles, Hazard produced another stellar performance for Chelsea. The Belgium playmaker was behind nearly all his side's attacks and his relentless efforts made it a tiring night for the Galatasaray defense.
Hazard and Oscar exchanged a series of one-twos in the 22nd minute before the Belgium international crossed for Lampard, who missed his attempt and sent the ball over. Hazard took a shot from distance two minutes later but his effort was stopped by Muslera.
Chelsea went closer in the 33rd minute when captain John Terry's superb left-footed volley from Lampard's free kick flew over the bar with Muslera looking beaten. Another fast move between Hazard and Oscar almost paid off but Alex Telles' return pass prevented Willian from doubling the lead.
Chelsea's tenacity was finally rewarded before the interval when Cahill scored from the rebound with a powerful finish after Muslera had parried away Terry's header from a corner.
Hazard continued to torment Galatasaray's defense in the second half. In the 49th, he went on a diagonal ran across the pitch and evaded Semih Kaya before releasing the ball for Eto'o -- but Oscar's shot from the striker's cross was blocked by Melo.
Though Galatasaray pushed forward in search of a goal, Chelsea comfortably kept the visitors at bay while being dangerous on the break until the final whistle.
Drogba left the pitch to a standing ovation as Chelsea fans chanted his name.
After Manchester City and Arsenal exited the competition last week, Manchester United will try to join Chelsea in the last eight when it hosts Olympiakos on Wednesday. However, David Moyes' team needs to overhaul a 2-0 loss in the first leg to advance.