Churchill Bros Floors Dempo With Odafe's Brace
In a pulsating match, Musli Power Churchill Bros fought back in the second half to down Dempo Sports club 3-2 in an exciting seventh round of the ONGC I-League, played at Nehru stadium in Margao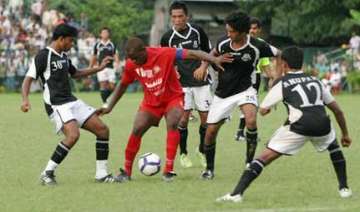 PTI
November 09, 2009 11:03 IST
In a pulsating match, Musli Power Churchill Bros fought back in the second half to down Dempo Sports club 3-2 in an exciting seventh round of the ONGC I-League, played at Nehru stadium in Margao on Sunday. 
Odafe Okolie gave Musli Power Churchill Bros the lead in the eighth minute. But, Dempo hit back in style scoring two goals through Ranty Martins to put Dempo 2-1 lead at half time.
Musli Power Churchill Bros than fought back in the second half and restored parity through birthday boy Felix Chimaokwu in the 79th minute. Odafe Okolie than scored the winner in the 87th minute to give Churchill full points.
The match was played at fast pace as both for superamacy. Churchill bros took the lead in the 8th minute through a penalty after Clifford Miranda pushed Kalu Ogba from behind when the later was about to score from inside the box.
Odafe Okolie who took the kick made no mistake in beating keeper Tyson Caiado to his right.
But Dempo, bounced back in style scoring two goals through Ranty Martins.
Following a move, hardworking Anthony Pereira from the right send a high cross to Ranty Martins inside the box who nodded home giving no chance to keeper Lalit Tapa to react.
Ranty martins who was going to a lean patch was at his best today as he combined along with Sunil Chettri upfront again scored  a beautiful goal in the 31st minute when he back-volleyed  a cross from Valeriano Rebello which deflected Chettri and popped up.
Dempo mounted pressure and had couple of chances to score but Anthony Pereira failed to score. Churchill Bros came back strongly after the break and nearly equalised in the 51st minute when a thundering shot from Vashum Reisangmi was put out by keeper Tyson Caido off a pass from Felix.
Tyson again came to Dempo's rescue when he blocked a powerful shot from Odafe Okolie and off the rebound Substitute Dan ito.
Dempo made a counter move and Ranty Martins was unlucky to score his hatrick when his powerful shot hit the post.
With Chuurchill piling pressure after the introduction of Dan Ito in place of Nacimento Silveira, Dempo defense started showing signs of nerves and conceded a goal.
To see Churchill bros restore parity in the 79th minute Odafe Okolie intercepted a back pass from Anthony Pereira, raced into the box and took a low shot which hit the post and off the rebound, Felix scored.
Odafe Okolie than ensured  Musli Power Churchill Bros full points when he guided the ball into the net after getting better of a defender off a lob from Naoba Singh from the right.
Referee P K bose showed yellow card to Churchill s Reisangmi Vasum.
Thus Churchill maintained their unbeaten run with three wins and four draws have collected 13 points from seven matches, moved to second place, behind Chirag United who heads the table with 15 points from as many matches. Dempo suffered their first defeat are third with 12 from as many matches. Churchill now play their next match against Chirag United here on November 13.  PTI