East Bengal play I-League match before empty stands
Kolkata: City football giants East Bengal, known for their crazy fan following, on Saturday played an I-League game in front of empty stands at the huge Salt Lake Stadium as the police stayed away, citing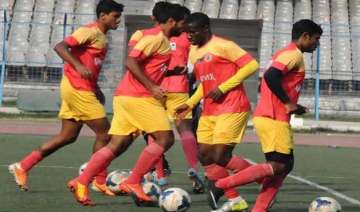 IANS
18 Apr 2015, 21:10:06 PM IST
Kolkata: City football giants East Bengal, known for their crazy fan following, on Saturday played an I-League game in front of empty stands at the huge Salt Lake Stadium as the police stayed away, citing a civic poll they were occupied with.
East Bengal fans and others passionate about football were denied a chance to watch the match against Mumbai FC as the police expressed their inability to manage a possible large crowd in view of the Kolkata Municipal Corporation polls held during the day.
No tickets were sold for the game and thus the players had for company the deafening silence of rows of empty seats, a few private security personnel, only 15-20 policemen and mediapersons.
The giant stadium, which has in the past attracted 1.31 lakh crowd for a match, sported a deserted look, a rare spectacle in this football mad city of cricket crazy India.
In an administrative meeting here on April 13, the club had decided to stage the matches in the empty stadium without their vociferous supporters after Bidhannagar city police, under whose jurisdiction the venue comes, said they cannot deploy the required number of police personnel for crowd control as they would be on municipal election duty.
It is quite normal for the stadium, which hosted the likes of Lionel Messi as also other football greats in the past, to draw around 70,000 spectators.
In 1997, the Federation Cup match between East Bengal and Mohun Bagan - a rivalry that features in world football governing body FIFA's classic derby list - attracted a record crowd of 1.31 lakh, with people virtually standing over one another to watch the game.
The stadium's capacity was brought down to around 68,000 with the addition of thousands of bucket seats during the Indian Super League (ISL) last year.
Ahead of the match, East Bengal's Nigerian striker Ranti Martins, who is a goal away from his 200th in the league said, "I feel sad that even if I score, it will have no importance. Everybody loves achieving milestones but what if it happens in an empty stadium, can we celebrate whole-heartedly?"
East Bengal will host Goan club Dempo on April 25 and then lock horns against Malaysian side Johor Darul Tazim on April 28 in the return leg of an AFC Cup fixture, having lost the first 1-4 away at Malaysia. Both games will be staged in empty stadiums too.