Evergreen Scholes key to Man United title revival
London, Apr 25: Manchester United's resurgence in the Premier League title race can be traced to the moment Alex Ferguson was treated to a surprise visit by a man who should never have retired last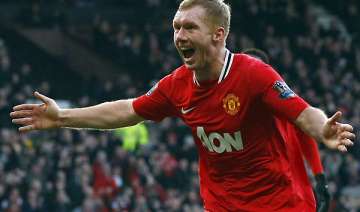 India TV News Desk
April 25, 2012 13:00 IST
London, Apr 25:
Manchester United's resurgence in the Premier League title race can be traced to the moment Alex Ferguson was treated to a surprise visit by a man who should never have retired last summer.
Reeling after losses to Blackburn and Newcastle at the start of the year and with his midfield struggling to assert any authority, Ferguson could hardly say no when Paul Scholes offered to restart his playing career at Old Trafford.
Scholes' impact has been immense. The former England international hasn't been on the losing side in any of the 14 matches he has played since January, helping United overturn a three-point deficit to Manchester City and go ahead by the same margin ahead prior to Monday's crucial derby game between the fierce rivals.
On Tuesday, he was voted third in the 2012 Footballer of the Year poll among England's football journalists — despite playing less than half of the season.
"It was a break for us to get Paul back," Ferguson said. "The form he's showing now is as good as it's ever been. He brings a calmness to the game and he can dictate the tempo of matches for us. He's been doing that since he's come back."
Scholes, who left his role as a youth-team coach to help United out, has only scored three goals in those 14 matches but his impact has been greater away from the penalty area.
Widely regarded as the one of the most technically gifted players of his generation, Scholes has brought an assuredness to United's midfield play. His combination with Michael Carrick, whose form has improved significantly with another playmaker alongside him, has given the team control of matches it had lacked at times in the first half of the season.
Scholes — seeking his 11th league winners' medal with United — showed signs of rustiness after trotting on as a second-half substitute for the first game of his comeback, the FA Cup third-round match at City on Jan. 8.
But before long he was displaying the kind of touch, poise and style that Ferguson had been missing since Scholes decided to end his playing days last May, after United's 3-1 loss to Barcelona in the Champions League final.
With his fitness improving with every game, Scholes has been a regular fixture in central midfield. Tellingly, United's only loss since January was against Wigan — when Scholes was rested by Ferguson.
"I thought he retired too soon," former United striker Denis Law told the club's website. "He's got another couple of seasons."
The famously low-key Scholes found himself at the center of slanging match between the two clubs last month, prompted by City executive Patrick Vieira's comments that United's decision to allow Scholes to rescind his retirement was a desperate move.
Ferguson responded by saying Scholes is the "best midfielder of the last 20 years" and Monday's match would be the perfect time to prove that.
Scholes will be up against one of the most dynamic midfielders in the world in Ivory Coast international Yaya Toure. In terms of mobility and explosiveness, there is no comparison between the two players but Scholes has adapted with his game to stay competitive in the gung-ho environs of the Premier League.
Rarely venturing forward — at least compared to his heyday at the turn of the century — Scholes has remained close to his back four, preserving energy and relying on his experience, tactical nous and fabulous range of passing to see him through.
"It's difficult when you come back from a spell out in your 30s but he seems to be rejuvenated, simply from the relief of knowing that he's back playing at this level and not coaching the young boys," Ferguson said.
Being the man who helped tip the balance United's way in one of the most gripping title battles of recent years could yet tempt Scholes to prolong his career for another season.