FIFA World Cup : Argentina hope for a better show against Iran
Belo Horizonte (Brazil):  Argentina may have started their FIFA 2014 World Cup campaign with a win against Bosnia and Herzegovina but they will be looking for a more convincing performance when they face Iran in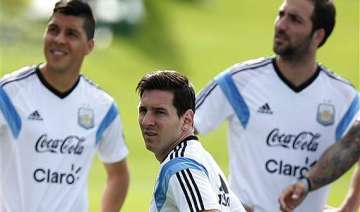 IANS
June 20, 2014 19:24 IST
Belo Horizonte (Brazil): 
Argentina may have started their FIFA 2014 World Cup campaign with a win against Bosnia and Herzegovina but they will be looking for a more convincing performance when they face Iran in their next group game here Saturday.
An own goal by Sead Kolasinac and a Lionel Messi strike gave the victory for Argentina, but their performance must get better against Iran if they are to make a run for the title, reports EFE.
Coach Alejandro Sabella looked as if he agreed to Messi's request to switch the formation from 5-3-2 to 4-3-3, which the team played with 15 games out of 35 in Sabella's stint.
Argentina's expected line-up at Estadio Minerao would be Sergio Romero; Pablo Zabaleta, Ezequiel Garay, Federico Fernandez, Marcos Rojo; Fernando Gago, Javier Mascherano, Angel di Maria; Sergio Aguero, Lionel Messi and Gonzalo Higuain.
Iran, part of arguably the World Cup's most boring match to date against Nigeria, will also look to give a better performance against the Argentines, knowing that their chances of winning, and even further, qualifying to the second round, might be impossible.