Fifa World Cup: Germany injury worries recede as WCup approaches
FRANKFURT, Germany: Germany's World Cup injury problems are receding ahead of Friday's friendly against Armenia, the team's last game before departing for Brazil.   Coach Joachim Loew says goalkeeper Manuel Neuer won't face Armenia "because we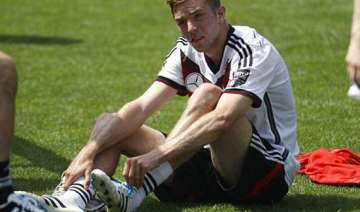 India TV News Desk
June 05, 2014 17:59 IST
FRANKFURT, Germany:
Germany's World Cup injury problems are receding ahead of Friday's friendly against Armenia, the team's last game before departing for Brazil.  
Coach Joachim Loew says goalkeeper Manuel Neuer won't face Armenia "because we don't want to take any risks" but that he will be fit for Germany's opening game against Portugal on June 16. Neuer has been laboring with a shoulder injury.   
Loew says he expects both Philipp Lahm and Bastian Schweinsteiger to play some part on Friday. Lahm had an ankle injury while Bayern Munich teammate Schweinsteiger had a knee problem.   
Germany could only draw 2-2 with Cameroon in last Sunday's friendly but Loew says it is normal that his players weren't at 100 percent.   
Against Armenia, he says he wants a good game "so we can leave our fans smiling."