FIFA World Cup: Spain fans shocked after 5-1 humiliating defeat
MADRID :  Football fans in Spain are in shock after watching the national team's 5-1 humiliation in its World Cup opener against the Netherlands.   It was Spain's worst defeat in 64 years and comes after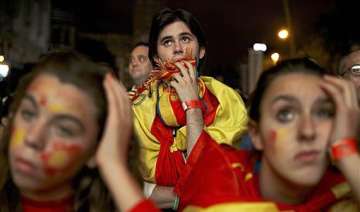 India TV News Desk
June 14, 2014 16:58 IST
MADRID : 
Football fans in Spain are in shock after watching the national team's 5-1 humiliation in its World Cup opener against the Netherlands.  
It was Spain's worst defeat in 64 years and comes after "La Roja" had dominated world soccer since 2008 with consecutive European Championships and a World Cup win in South Africa.   
"Disaster," said newspaper El Pais on Saturday while El Mundo rated the performance a "Humiliation" and La Vanguardia called it "A failure."   
City streets, accustomed to noisy celebrations after Spain wins, were eerily quiet after Friday's rout as fans filed silently out of bars.   
Some refused to accept it meant the "end of an era" but others said it was time for the coach to make radical changes.