Gold Cup: Cuba faces elimination
Sandy, (Utah), July 14: Caribbean Cup champions Cuba failed to capitalise on an early goal lead and suffered a 1-4 defeat to host United States in Group C of the CONCACAF Gold Cup.Cuba opened the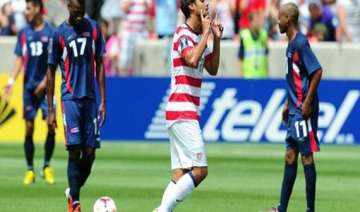 IANS
July 14, 2013 12:50 IST
Sandy, (Utah), July 14:
Caribbean Cup champions Cuba failed to capitalise on an early goal lead and suffered a 1-4 defeat to host United States in Group C of the CONCACAF Gold Cup.
Cuba opened the scoring in the 35th minute Saturday with Jose Ciprian with an assist from Ariel Martinez but then conceded a penalty just before the half. Veteran Landon Donovan converted in the 45th minute to level the score, reports CMC.
But the Americans scored three unanswered goals through Joe Corona (57th) and Chris Wondolowski (66th and 85th) to leave the Cubans without a point after two games and also without a chance of advancing to the quarter-final stage.
Cuba will be back in action in their final group game against Belize in Connecticut Tuesday. The United States and Costa Rica will play in the second game of the double-header.