Juventus closing in on Italian league title
Rome, Apr 27: Juventus is moving closer and closer to its first Italian league title since the 2006 match-fixing scandal, with Antonio Conte's club still undefeated and finding new weapons.With four rounds remaining in Serie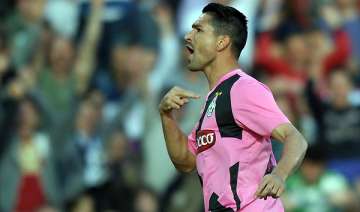 India TV News Desk
April 27, 2012 9:57 IST
Rome, Apr 27:
Juventus is moving closer and closer to its first Italian league title since the 2006 match-fixing scandal, with Antonio Conte's club still undefeated and finding new weapons.
With four rounds remaining in Serie A, Juve has a three-point lead over defending champion AC Milan, and also holds the tiebreaker with a win and a draw head-to-head.
Both Juve and Milan scraped out 1-0 wins Wednesday. This weekend, Juve, seeking a first title since 2003, visits a Novara squad battling to avoid relegation, while Milan is at mid-table Siena.
Unbeaten through 34 rounds, Juventus has matched AC Milan's Serie A record set in 1991-92 under Fabio Capello, when the Rossoneri went undefeated the entire season, which then lasted only 34 rounds.
No Serie A club has ever gone undefeated in a 38-round season. Juventus is also on a seven-match winning streak.
However, it didn't look like the Turin squad was going to win Wednesday until the 79th minute, when Marco Borriello scored his first goal since transferring from Roma in January.
Actually, Borriello hadn't scored since the end of last season, having been cast aside by new Roma manager Luis Enrique at the start of this campaign.
"He arrived with a lot of bad baggage but he remained humble and fought his way up in the group," Conte said of Borriello, who scored 11 goals for Roma last season. "He never gave up, he worked hard in silence with great dedication and now I hope this goal gets him the affection he deserves.
"It moved us a big step toward our dream. Marco is giving his soul for Juve and these are the type of men I'll defend with a sword, against anyone and everyone."
Novara, Juve's next opponent, is coming off a win over third-place Lazio.
"We've still got four finals," Conte said. "In Novara we're going to find more difficulty. ... Anyhow, Juve has become competitive again, with key fundamentals. For years we sat at the banquets of others, but now we're hungry and we want to eat."
Juve's last two titles, in 2005 and 2006, were stripped in the match-fixing scandal. The last title it retains came in 2003.
Perhaps the only problem for Juventus recently has come at the penalty spot, where Andrea Pirlo has failed to convert in the last two matches. Look for Arturo Vidal to take the spot kicks in the future.
Meanwhile, all Milan can do is keep winning and hoping that Juve will slip up at some point.
"Between Novara, Lecce, Cagliari and Atalanta, I think something could happen," Milan manager Massimiliano Allegri said, referring to Juve's remaining matches. "When Juventus has clinched mathematically we'll give them the scudetto, but why should we give it to them before?"
Allegri dismissed rumors he could be fired if Milan doesn't win, taking heart from recent support expressed by vice president Adriano Galliani.
"The rumors make me smile," he said. "The club has already said what it thinks."
Compared to the title race, the battle for third place and the final Champions League berth is even more competitive.
Lazio is currently third with 55 points, followed by Napoli (54), Inter (52), Udinese (52) and Roma (50).
With Lazio struggling, Napoli and Inter appear to be the favorites.
Napoli has won two straight, while Inter welcomed back Wesley Sneijder to a starring role in Wednesday's 3-1 win over Udinese. Sneijder has missed large portions this season with injuries.
This weekend, Lazio visits Udinese, Napoli is at Roma and Inter hosts a Cesena squad that has already been relegated.
Roma is in crisis mode following a 2-1 loss to Fiorentina and a 4-0 rout by Juventus, putting Luis Enrique's job at risk.
Also, Roma forward Pablo Osvaldo was banned for two matches for insulting the referee.
Also this weekend, it's: Cagliari vs. Chievo Verona; Palermo vs. Catania; Bologna vs. Genoa; Atalanta vs. Fiorentina; and Lecce vs. Parma.