Madrid Faces Challenge From Valencia In Title Bid
Madrid, Apr 5: Real Madrid's bid to end Barcelona's monopoly of Spanish league crowns is set to enter its toughest stretch starting Sunday against third-place Valencia.Barcelona has what appears to be an easy match at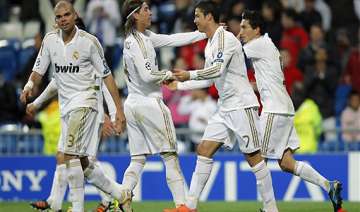 India TV News Desk
April 05, 2012 19:02 IST
Madrid, Apr 5:
Real Madrid's bid to end Barcelona's monopoly of Spanish league crowns is set to enter its toughest stretch starting Sunday against third-place Valencia.
Barcelona has what appears to be an easy match at Zaragoza a day earlier, where a victory can cut Madrid's lead to three points to pile on the pressure for the Spanish leader's match at its Santiago Bernabeu stadium.
Madrid hasn't lost in 16 matches, winning four straight overall behind the steady goals of Cristiano Ronaldo, Karim Benzema and Gonzalo Higuain, who have combined to score 101 times this season.
Madrid cannot ease up ahead of its match against the three-time defending champions later this month with a game against a revived Atletico Madrid team also looming.