Martino pleased after home debut as Barca coach
Barcelona, Aug 3: As friendly games go, FC Barcelona's 8-0 win at home against Brazilian side Santos probably won't tell us too much about the Liga BBVA Champons' expectations for the future given that their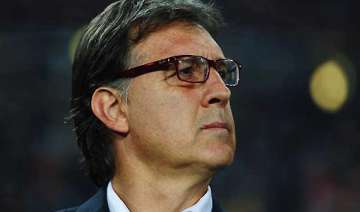 IANS
August 03, 2013 20:24 IST
Barcelona, Aug 3:
As friendly games go, FC Barcelona's 8-0 win at home against Brazilian side Santos probably won't tell us too much about the Liga BBVA Champons' expectations for the future given that their rivals appeared to be in town to take in the tourist sights and earn some extra money, rather than play a serious game of football.
Nevertheless it allowed the close to sell-out crowd in the Camp Nou Friday night to enjoy watching their heroes play nearly the entire game in their rivals' half and also to enjoy the skills of Lionel Messi and Neymar, although the fact that the Brazilian came into the game as a halftime substitute meant the fans would only see them work together for 16 short minutes, reports Xinhua.
What the match did teach us, however, is that new coach, 'Tata' Martino is not going to change the 4-3-3 line up which has worked so well for Barca in recent seasons. Sergio Busquets will still be the midfield lynchpin with Xavi Hernandez and Andres Iniesta creating some magic and moving the ball in front of him.
One subtle change, however, is the pressure Barca put on Santos, asphyxiating the Brazilian side with men pressing their defenders almost on the edge of their penalty area, forcing errors and helping to set up chance after chance.
"Barcelona with the ball at their feet are easy to recognise. I was interested in recovering the concept of pressure high up the field and we did that in both halves," said Martino.
"We want the team to have these qualities and make them re-appear. We can also work on how the wingers and full backs an incorporate in attack so we can alternate between long and short attacks. It is worthwhile trying this," explained the coach.
Barca suffered the loss of Thiago Alcantara to Bayern Munich over the summer, but seem to have found an effective replacement in B-teamer, Sergi Roberto, while Martino insists that he has no intention of selling Cesc Fabregas, who scored twice Friday, despite offers from Manchester United.
"We have had a chat and I said what I think and it has not occurred to me to not count on him as he is one of the best players in the squad. I want him to stay and I will stick my neck out and say 'he will stay,' said Martino, about the midfielder.
Last season Barca faded in the closing months of the season as fatigue took its toll and this promises to be just as intense a season, ending as it does with the World Cup finals. Barca president, Sandro Rosell has promised the club will make at least another signing before the end of the month, with a central defender the most necessary option.