Messi Scores Double After Quick Recovery From Flu
Barcelona, Jan 5: After having been ruled out with the flu, Lionel Messi showed no signs of illness when he netted a pair of second-half goals in Barcelona's 4-0 win over Osasuna in the Copa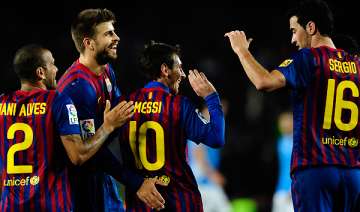 India TV News Desk
January 05, 2012 13:36 IST
Barcelona, Jan 5: After having been ruled out with the flu, Lionel Messi showed no signs of illness when he netted a pair of second-half goals in Barcelona's 4-0 win over Osasuna in the Copa del Rey on Wednesday.

Barcelona had announced earlier in the day that Messi would miss the game because of flulike symptoms, but minutes before the start of the round-of-16 game the club said its star "had responded positively to treatment and is better."

Messi went on after halftime and had little trouble taking his season scoring tally to 31 goals while giving Barcelona a sizable advantage in the knockout series.

The Argentina forward headed in a cross from Cesc Fabregas in the 72nd minute and fired in a left-footer from the edge of the area in stoppage time.

"I hadn't vomited and didn't have a temperature, it was just a stomach ache, nothing else," Messi said after the game. "That's why I didn't practice in the morning, but later I felt better and was good to play."

Barcelona coach Pep Guardiola insisted after the game that the club had acted correctly in originally ruling Messi unfit for the match since he hadn't been able to take part in morning training.

"This morning (Messi) had stomach pains and shakes, he didn't feel well, and since (Victor) Valdes had the flu we thought Messi had it too, so I sent him home," Guardiola said after the game. "Later in the afternoon he called and said he was better, and I decided I preferred to have him on the bench as opposed to the stands."

Goalkeeper Valdes did miss the game because of the flu, according to the club.

Backup goalkeeper Jose Pinto was already set to start for last year's runner-up, meaning reserve team goalkeeper Oier Olazabal took Valdes' spot on the bench.

The two Spanish teams will play the second leg in Pamplona next week.

If Barcelona eliminates Osasuna, it faces a possible meeting with defending champion Real Madrid in the quarterfinals.