Milan Stands In Way Of Barca's Champions Progress
Barcelona (Spain), Apr 3: Barcelona has to find a way to break down AC Milan's stubborn defense in order to avoid exiting to Italian opposition again and repeating its only Champions League failure under coach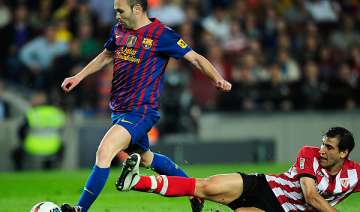 India TV News Desk
April 03, 2012 10:22 IST
Barcelona (Spain), Apr 3:
Barcelona has to find a way to break down AC Milan's stubborn defense in order to avoid exiting to Italian opposition again and repeating its only Champions League failure under coach Pep Guardiola.
A scoreless draw in the first leg of their quarterfinal has set the scene for a must-win match for Barcelona, which has twice won the competition since Guardiola took charge three seasons ago. The only blight on that record was exiting to Jose Mourinho's Inter Milan two years ago in the semifinals.
Barcelona is hoping the home field at Camp Nou will better cater to their explosive attack after the club officially protested to UEFA over the San Siro turf, on which several players lost their footing and kicked up clumps of grass. But it may have to do it without one of its best playmakers as Xavi Hernandez failed to train for the second straight day Monday due to a nagging right calf injury.
"It's a final in which only a victory matters," Barcelona captain Carles Puyol said on Monday. "It's always important not to concede (goals) and, tomorrow, even more so."
Milan striker Zlatan Ibrahimovic returns to Camp Nou for the first time since leaving Barcelona in 2010, after missing the teams' 2-2 draw there in the group stage with an injury. Milan's attack could be boosted by the return of Alexandre Pato, who scored in the group-stage match in September.
"He returned on Sunday after being sidelined one month, had his first training session and in Barcelona he'll have his second one. We'll evaluate him after that," Milan coach Massimiliano Allegri said on Monday. "I've brought five strikers to Barcelona and one will have to watch from the stands."
Pato struck in the opening minutes of that game, and the Rossoneri then scored a stoppage-time equalizer that serves as a reminder of the Italian champions' abilities.
"Ibra, Pato and Robinho are players who can change a game, so we have to be very concentrated," said Puyol, who along with Cesc Fabregas sat out Saturday's 2-0 league win over Athletic Bilbao with Milan in mind. "There's no margin for error."
Guardiola, who did not rule out playing with only three defenders, said Xavi would be a game-time decision after including the Spain international in the squad.
"It's been two days now he's had a problem with this famous calf (of his). We don't want to add extra pressure on him but if he's in the squad it means there's a chance he can play," said Guardiola, who is expected to have Adriano and Ibrahim Afellay available while David Villa and Eric Abdial remain sidelined. "The idea will be to generate chances."
Milan has bigger injury worries with Thiago Silva and Mark van Bommel out injured, while goalkeeper Christian Abbiati and midfielder Antonio Nocerino should be fit despite being seen limping after Saturday's 1-1 draw at Catania.
"We have to play like we did at the San Siro and, above all, do all we can to keep Barca from scoring. That will give us a chance of advancing," Allegri said. "It will be important knowing when to attack and when to defend.
"Barcelona is still the best team in the world but inside the match there will be two or three moments we'll have to understand and (take advantage) of."
Lionel Messi can match Thierry Henry's Champions League total of 50 goals — third best behind Raul Gonzalez and Ruud van Nistelrooy — by scoring for the 20th time in 11 games Tuesday.
Barcelona is unbeaten in 11 matches — with 10 victories — and hasn't lost at the Camp Nou for 51 games, dating back to September 2010. It hasn't lost to Milan in nearly eight years and is trying to reach the Champions League semifinals for the fifth successive year, which would equal the record set by Real Madrid between 1956-60.
"To be in this position of a fifth straight semifinal again is probably one of the things I'm most proud of," Guardiola added.