Pardew admits charge for head-butting player
Newcastle, England: Newcastle manager Alan Pardew will attend a hearing with the English Football Association to discover what punishment he will receive for head-butting an opposing player in the Premier League.   Newcastle said on Thursday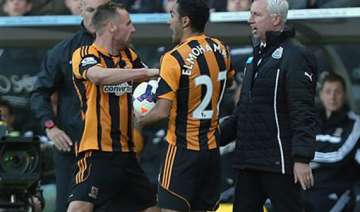 India TV News Desk
March 07, 2014 6:39 IST
Newcastle, England
: Newcastle manager Alan Pardew will attend a hearing with the English Football Association to discover what punishment he will receive for head-butting an opposing player in the Premier League.   
Newcastle said on Thursday that Pardew has admitted a misconduct charge following his confrontation with Hull midfielder David Meyler during Newcastle's 4-1 win on Saturday.   
Pardew already has been sanctioned by Newcastle, accepting a formal warning and a fine of 100,000 pounds ($168,000), and is facing a lengthy stadium ban by the FA.   
The date of the hearing hasn't been set.   
This season, then-Blackpool manager Paul Ince received a five-match stadium ban from the FA for violently shoving a fourth official during a rant filled with profanity.