Platini unhappy with Croatia fans at Euro 2012
Poland, Jun18: UEFA President Michel Platini says he is unhappy that some Croatia fans have tarnished a European Championship he described as "99 percent great."Platini tells reporters he is delighted with co-hosts Poland and Ukraine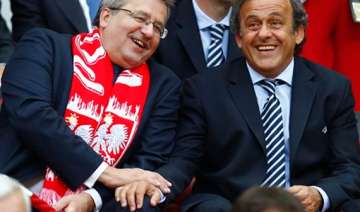 India TV News Desk
June 18, 2012 21:07 IST
Poland, Jun18:
UEFA President Michel Platini says he is unhappy that some Croatia fans have tarnished a European Championship he described as "99 percent great."
Platini tells reporters he is delighted with co-hosts Poland and Ukraine who "have already won the Euro."
However, Platini says "I am not happy with the Croatian people."
UEFA has charged Croatia's football association after fans made monkey noises at Italy's Mario Balotelli. Croatian fans also caused delays at both their team's matches by throwing flares onto the pitch.
Platini says only "10 stupid people" were responsible for fighting in Warsaw when Poland played Russia.
As for the football, Platini says the Netherlands' exit shows Euro 2012 is "more difficult than the World Cup."