Quaresma gets 2 as Porto beats Bayern 3-1 in Champs League
Porto, Portugal: Two goals from Ricardo Quaresma in the first 10 minutes helped FC Porto to a surprise 3-1 win over Bayern Munich in the first leg of their Champions League quarterfinal on Wednesday.Bayern, a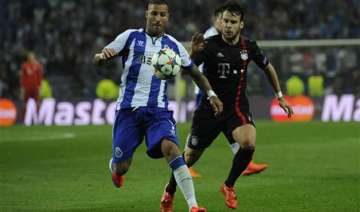 India TV News Desk
April 16, 2015 12:16 IST
Porto, Portugal: Two goals from Ricardo Quaresma in the first 10 minutes helped FC Porto to a surprise 3-1 win over Bayern Munich in the first leg of their Champions League quarterfinal on Wednesday.
Bayern, a five-time European champion but currently hit by injuries, paid for its defensive blunders as it struggled to dominate a Portuguese side which is unbeaten in the competition.
Thiago Alcantara pulled one back for Bayern in the 28th minute, but Jackson Martinez restored Porto's two-goal advantage ahead of the return leg in Germany next week.
"We are facing one of the strongest Bayern teams in history," said Porto's Spanish coach Julen Lopetegui, who is in his first Champions League campaign. "The hardest part will be in Munich."
In the night's other quarterfinal, Barcelona won 3-1 at Paris Saint-Germain.
The game in northern Portugal got off to a dramatic start, with a penalty awarded to Porto in only the second minute after Xabi Alonso lost the ball and goalkeeper Manuel Neuer brought down Martinez.
Quaresma converted the resulting penalty, and minutes later his pressure forced an error from central defender Dante — allowing the Portugal forward to slot past Neuer for 2-0.
Bayern coach Pep Guardiola squatted on the sideline and scratched his head. As well as absences through injury, the Spaniard fielded players such as Alonso who were returning from layoffs.
"We have players who were out a long time with injuries ... their legs don't last very long," Guardiola said. "It's a tough result to take into the second leg, but we'll give it a go."
His players fought to regain their composure and caught the Porto defense napping when Jerome Boateng's cross skimmed across the area for Thiago to score at the back post.
However, Porto then produced relentless pressure against an opponent that was a finalist in two of the last three seasons but traveled to Portugal without star players Franck Ribery, Bastian Schweinsteiger and Arjen Robben.
Martinez met a long pass and rounded Neuer in the 65th to give Porto a real chance of advancing next week.
Though Porto takes a two-goal advantage to Munich, in the return leg it will be without suspended defenders Danilo and Alex Sandro.
Porto has won the European title twice but is in the quarterfinal stage for only the first time since 2004, when it won the title under former coach Jose Mourinho.
Porto is dreaming of a repeat of the 1987 Champions League final, when it memorably upset Bayern with a 2-1 comeback win.