Shakhtar Coach Mircea Lucescu Has Car Accident
Romania, Jan 6: A Bucharest medical official says Mircea Lucescu, the Romanian coach of Shakhtar Donetsk, has been hospitalized after a car accident in the city.Bogdan Oprita, chief of the capital's paramedics, says the 66-year-old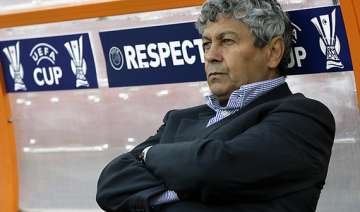 India TV News Desk
January 06, 2012 20:15 IST
Romania, Jan 6: A Bucharest medical official says Mircea Lucescu, the Romanian coach of Shakhtar Donetsk, has been hospitalized after a car accident in the city.

Bogdan Oprita, chief of the capital's paramedics, says the 66-year-old Lucescu was conscious but suffered chest injuries in Friday's accident. Oprita says a passenger in the car Lucescu was driving was also hospitalized.

Romanian media says Lucescu's SUV was hit by a tram and pictures showed the vehicle badly damaged on the left side. Sports online publication Gsp.ro said Lucescu had three broken ribs.

Lucescu, who guided Ukraine's Shakhtar to the 2009 UEFA Cup, is one of Europe's most experienced coaches. His previous teams include Inter Milan, Galatasaray and Romania's national side.