India's Sunil Chhetri in UK-based football magazine's top 500 players
New Delhi: Star Indian football team striker Sunil Chhetri was on Thursday named among the top 500 players in the world by a United Kingdom-based magazine 'World Soccer', placing him along with the likes of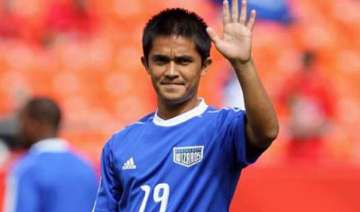 PTI
April 30, 2015 23:10 IST
New Delhi: Star Indian football team striker Sunil Chhetri was on Thursday named among the top 500 players in the world by a United Kingdom-based magazine 'World Soccer', placing him along with the likes of superstars Cristiano Ronaldo, Lionel Messi and Neymar. 
The 30-year-old Chhetri was described as "India's record goal scorer" while also mentioning that he did not take part in the recent Indian Super League. 
Besides Ronaldo, Messi and Neymar, other top footballers in the list include Real Madrid's Gareth Bale and Iker Casillas, Barcelona's Luiz Suarez and Andre Iniesta, Zlatan Ibrahimovic ans Steven Gerrard. 
The football magazine said that it has "endeavoured to compile a list of the world's most talked-about players - the most newsworthy players who, by definition, are the most important". 
"We started by drawing up a list of the key players by league ... Then added players who were important figures for their national sides and in their respective regions," the magazine said.