Roger Federer ranks up to No. 3 on ATP, Garbine Muguruza at No. 5 in WTA
After clinching the Wimbledon titles, Roger Federer notches up to No.3 rank in the ATP while Muguruza enters the top ten with a No.5 position in the WTA.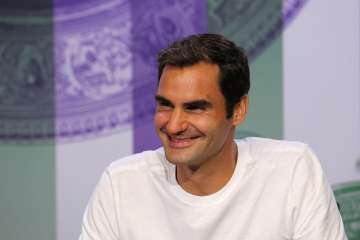 Source: GETTY IMAGES
Reported by: AP
London
July 17, 2017 14:44 IST
Roger Federer's eighth Wimbledon title has pushed him up two spots and back to No. 3 in the ATP rankings after he ended last season at No. 16. Garbine Muguruza's first championship at the All England Club returns her to the WTA's top 10 at No. 5 on Monday, a rise of 10 spots, while runner-up Venus Williams goes from No. 11 to No. 9.
Karolina Pliskova becomes the 23rd woman to be ranked No. 1, a debut guaranteed last week, based on results at Wimbledon. She had been No. 3 and swaps positions with former No. 1 Angelique Kerber.
Serena Williams has not competed since January because she is pregnant, and by losing rankings points she earned last year by winning Wimbledon and reaching the French Open final, she drops to No. 15, out of the top 10 for the first time since April 1, 2012.