3rd Seed Bartoli Holds On At Family Circle
Charleston (South Carolina), Apr 5: Third-seeded Marion Bartoli hung on for a 6-2, 6-7 (3), 6-4 victory over Vera Dushevina at the Family Circle Cup on Wednesday.Bartoli, the world's fourth-ranked player who reached the semifinals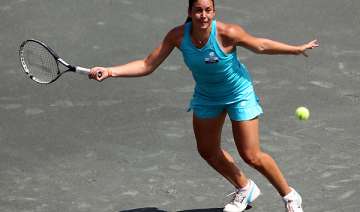 India TV News Desk
April 05, 2012 7:46 IST
Charleston (South Carolina), Apr 5:
Third-seeded Marion Bartoli hung on for a 6-2, 6-7 (3), 6-4 victory over Vera Dushevina at the Family Circle Cup on Wednesday.
Bartoli, the world's fourth-ranked player who reached the semifinals of the French Open in 2011, only had two days of practice to get ready for her first clay-court tournament of the season and the rust was apparent.
After breezing through the first set, Bartoli struggled with her serve and in handling the serve of her Russian opponent. Dushevina tied the match by winning the second-set tiebreaker. It was Bartoli, though, who regained control in the final set by taking back-to-back games for a 5-3 lead. When Dushevina sent a backhand return wide, Bartoli pumped her fist and shouted, "Yes."
Bartoli acknowledged she's got work to do if she hopes to go even further at Roland Garros this year. Still, she was pleased that she had the mental strength to prevail in the 3 hour, 4 minute match.
"It was great to put up a fight and get the win out there," said Bartoli, the highest seed in action at Family Circle Tennis Center.
Unseeded American Venus Williams faces another former No. 1 in the world in Jelena Jankovic on Wednesday night.
Fifth-seeded Serena Williams goes for a spot in the quarterfinals against Marina Erakovic of New Zealand on Thursday. Erakovic, the tournament's No. 17 seed, defeated Anna Tatishvili, 7-5, 6-3.
Other early winners Wednesday were 13th-seeded Nadia Petrova, 14th-seeded Polona Hercog, Aleksandra Wozniak and Galina Voskoboeva.
Like Serena Williams, second-seeded and 2010 Family Circle champion Samatha Stosur had the day off. The scheduled top seed, Agnieszka Radwanska of Poland, withdrew from the tournament this past Sunday after taking the Sony Ericsson Open final in Key Biscayne, Florida, last weekend.
Bartoli, the 27-year-old Frenchwoman, has had her share of big victories in the past. She beat then top-ranked Justine Henin at Wimbledon in 2007 and No. 1 Jankovic at the Australian Open in 2009. Just last week, Bartoli ended the 26-match win streak of current world No. 1 Victoria Azarenka in Key Biscayne.
Bartoli has long been one of the WTA's fittest players. She's added an improved mental strength to her game, too.
Bartoli she didn't enter her match against Azarenka with the goal of stopping the streak or proving to the people she could trade ground strokes with the world's best. "I have the same motivation no matter what," Bartoli said. "That's to play my best and win."
Bartoli wasn't close to her best, particularly in the second set. Dushevina overcame a 2-1 lead to break Bartoli's serve twice on the way to a 5-3 lead. Bartoli called on that mental toughness to dig out of that hole and force the tiebreaker.
However, Dushevina won three straight points to lead 5-2 and finished off the second-set win moments later.
Dushevina used her big serve — she popped the ball at speeds as high as 110 mph — to keep up with Bartoli at 3-all when the Frenchwoman dug her heels in one last time. Bartoli saved a game point to go up 4-3. Bartoli attacked Dushevina's serve a game later to gain control.
"I thought it would be hard for her keep up this kind of service for the whole set" on a sunny, humid afternoon, Bartoli said.
Bartoli will face Hercog for a spot in the quarterfinals.