Andy Murray Reaches Quarterfinals In Monte Carlo
Monaco, Apr 19: Andy Murray reached the quarterfinals of the Monte Carlo Masters on Thursday after Julien Benneteau injured his ankle and retired near the end of a hard-fought first set with the score 6-5.Benneteau,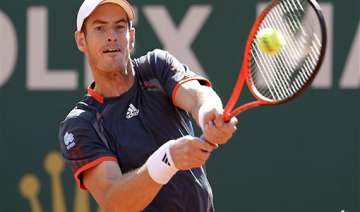 India TV News Desk
April 19, 2012 20:39 IST
Monaco, Apr 19:
Andy Murray reached the quarterfinals of the Monte Carlo Masters on Thursday after Julien Benneteau injured his ankle and retired near the end of a hard-fought first set with the score 6-5.
Benneteau, a former French Open quarterfinalist, caused the third-seeded Murray problems throughout a set in which both players were aggressive.
The Frenchman dictated many of the rallies, troubling Murray with some big forehands and driving him back with some stinging backhands.
"He was playing well, he was going for his shots and making it tough," Murray said.
But Benneteau, scampering to retrieve a shot from the baseline, slipped and rolled his right ankle. He also hurt his right wrist as he tried to break his fall.
"When he went down, he was making quite a lot of noise," Murray said. "You see people turn their ankle, they make a lot of noise because the shock of it is quite scary."
After lengthy treatment, Benneteau briefly continued before retiring. Murray next pays sixth-seeded Tomas Berdych of the Czech Republic, who recovered from a shaky first set to beat No. 12 Kei Nishikori of Japan 2-6, 6-2, 6-4.
Nishikori only lost two points on his serve in the first set and broke Berdych twice.
Berdych has a 3-2 record against Murray, including a straight-sets win in the fourth round of the French Open two years ago.
"He plays a different style of tennis on the clay," Murray said. "He has so much power, he's able to go through the court, hit pretty flat."
Murray, meanwhile, struggled to hold his opening service game and then broke Benneteau. But the Frenchman broke straight back when Murray, who had saved four break points, hit a forehand wide on the fifth.
On the same center court days ago, Argentine player Juan Monaco also turned his ankle in an almost identical way to Benneteau, and had to pull out of his match against Dutchman Robin Haase.
"In parts, it's not flat," Murray said of the center court at the Monte Carlo Country club. "Normally the courts here are fantastic. They said they had a few problems with it during the Davis Cup, but they changed it."
Benneteau had lengthy treatment on his ankle, with Murray even jogging over to bring him some ice to place on it.
"When I went over (to see him), his knee was kind of shaking quite a lot because he's so nervous about what he's done," Murray said. "Normally when you wake up the next day you can tell how bad it's going to be."
He got back up to finish the last two points of the 11th game, but Benneteau had to switch to his left hand, and feebly returned Murray's serve wide on one point.
At the changeover, Benneteau took another, shorter, medical time-out on his wrist as Murray jogged on the spot to keep his body warm.
To loud applause, Benneteau rose out of his chair, and prepared to serve. But he realized he would be unable to and shook his head.
Fourth-seeded Jo-Wilfried Tsonga of France also advanced to the last eight by beating No. 13 Fernando Verdasco of Spain 7-6 (7), 6-2, after twice coming off for rain delays.
Verdasco rallied from a set down to win his first two matches of the tournament, and Tsonga worked hard in the first set, saving all five break points he faced. Tsonga saved two set points, first with a volley at the net and then with a drop shot and a volley.
He clinched the first set by following up a good first serve with a forehand winner, and a double break put him in control of the second. The 27-year-old Tsonga closed out the match when Verdasco hit a forehand return wide.
Later Thursday, seven-time defending champion Rafael Nadal was playing qualifier Mikhail Kukushkin of Kazakhstan, while top-ranked Novak Djokovic was to play No. 16 Alexandr Dolgopolov of Ukraine.