Andy Murray wins Wimbledown crown, ends 77-year-old drought
Wimbledon, July 7 : Britain's world number two Andy Murray today ended his nation's 77-year-old drought by winning the Wimbledon men's crown beating top-ranked Novak Djokovic 6-4, 7-5, 6-4 in the final.On a brilliantly sunny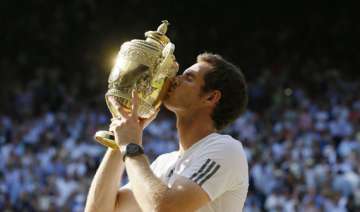 India TV Sports Desk
July 07, 2013 23:01 IST
Wimbledon, July 7 :
Britain's world number two Andy Murray today ended his nation's 77-year-old drought by winning the Wimbledon men's crown beating top-ranked Novak Djokovic 6-4, 7-5, 6-4 in the final.
On a brilliantly sunny Sunday afternoon, the 26-year-old Scot player  became the first British to win Wimbledon since Fred Perry won the last of three consecutive victories in 1936.
"I understand how much everyone wanted to see a British winner at Wimbledon so I hope you enjoyed it," Murray told the crowd after the match. "I tried my best."
A year after a crushing defeat at the hands of Roger Federer in the Wimbledon final, Murray returned to the All England Club lawns to capture his second Grand Slam title after last year's U.S. Open, where he beat Serbia's Djokovic in five sets.
Murray also won last year's Olympic gold medal at Wimbledon, and ran his unbeaten string on grass to 18-0.
"I can't believe I managed to do it ... that last game very challenging," Murray said. "Probably hardest points I've had to play in my life."
Meeting in their fourth major final — and third in less than a year — the world's top two players and defensive standouts exchanged many gruelling groundstroke rallies. A few went 30 shots or more.
Murray was steadier, taking advantage of the Djokovic's lacklustre serving and bouts of error-prone play.
He seemed energized by the nearly 15,000 fans on sold-out Centre Court and thousands more watching the big screen from the grounds, storming back from a 1-4 second set deficit to put six-time major winner Djokovic on the ropes.
After dropping his first four Grand Slam finals, Murray, who skipped the French Open with a bad back, ran his record to 2-6, having lost to Djokovic in January's Australian Open final.
After the victory, Murray climbed into his player's box to hug, among others, coach ivan Lendl.
"This one is especially for Lendl as well because he did everything to try to win this one so I hope he enjoyed it," Murray said.