Australian Open Scene: Nadal's shorts, Murray's language
Melbourne, Australia: After nearly six months away, Rafael Nadal is back. And he's hard to miss.Nadal outshone his first-round opponent Mikhail Youzhny, literally and sartorially, decked out in a pink florescent tennis shirt and a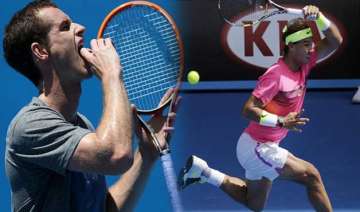 India TV News Desk
January 19, 2015 12:53 IST
Melbourne, Australia: After nearly six months away, Rafael Nadal is back. And he's hard to miss.
Nadal outshone his first-round opponent Mikhail Youzhny, literally and sartorially, decked out in a pink florescent tennis shirt and a neon yellow wristband to match his sneakers.
Nadal told the on-court interviewer after his first-round win that his many months away from the tour because of injuries and an appendix surgery had battered his confidence. The commentator responded by pointing to Nadal's shorts and saying he suspected the Spaniard didn't suffer from lack of confidence.
"I don't think many men could pull off this pink reflector," the commentator told Nadal, drawing stadium-wide laughter as he pointed out the neon pink stripe down the side of Nadal's white shorts.
Nadal joined the laughter, saying these were his "party" shorts for the past couple of months during his time off.
"I just like bright colors," Nadal added. "Australia is a happy country, a sports country. People here bring me positive energy, so it's the right place to wear that."
___
Andy Murray is well-known for using some choice words to criticize himself during matches, and he was at it again while briefly trailing in his 6-3, 6-4, 7-6 (3) victory Monday over Indian qualifier Yuki Bhambri.
While down 4-1 in the third set, Murray yelled angrily and threw his hands up in the air, clearly unhappy with how he was playing.
After all was said and done, he forgave himself.
"I think in some sense when you're playing you tend to say things that you don't really mean," Murray said. "That's just how the brain works. I've learned a lot about that over the last couple years."