Azarenka Routs Sharapova To Win Australian Title
Melbourne, Jan 28: Victoria Azarenka routed Maria Sharapova 6-3, 6-0 to win the Australian Open women's title on Saturday night and secure the No. 1 ranking, all in her first Grand Slam final.The 22-year-old Belarusian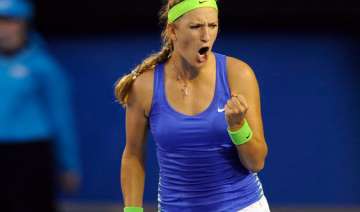 India TV News Desk
January 28, 2012 15:59 IST
Melbourne, Jan 28: Victoria Azarenka routed Maria Sharapova 6-3, 6-0 to win the Australian Open women's title on Saturday night and secure the No. 1 ranking, all in her first Grand Slam final.

The 22-year-old Belarusian dropped her opening service game and was down 2-0 after a nervous start before winning 12 of the next 13 games to take the match away from Sharapova, a three-time major winner and the 2008 Australian champion.

She became only the third woman to earn the No. 1 spot after winning her first Grand Slam title.

Azarenka has been a distinctive presence at Melbourne Park as much as for her shrieks and hoots with each shot and seemingly boundless energy as for her white shorts, blue singlet and lime green head and wrist bands.

Against Sharapova, she maintained the frenetic movement that has been the hallmark of her campaign in Australia, her 25th consecutive major. She won the Sydney International title the weekend before the season's first major and is now on a 12-match winning streak.

The third-seeded Azarenka set up championship point with a stunning forehand winner and sealed it when Sharapova netted a groundstroke.

She dropped onto her knees at the baseline with her hands over her face. She got up, held up her hands and mouthed "What happened?" before jogging up to her coach in the stands to celebrate.