Benneteau Fractures Right Elbow And Sprains Ankle
Monaco, Apr 20: Julien Benneteau is in danger of missing the French Open after fracturing his right elbow and spraining his right ankle when playing against Andy Murray in the third round of the Monte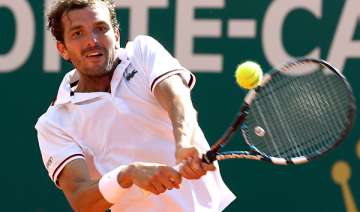 India TV News Desk
April 20, 2012 11:31 IST
Monaco, Apr 20:
Julien Benneteau is in danger of missing the French Open after fracturing his right elbow and spraining his right ankle when playing against Andy Murray in the third round of the Monte Carlo Masters.
Benneteau, a French Open quarterfinalist in 2006, was scampering to retrieve a shot from the baseline at 5-5 in the first set on Thursday when he slipped and rolled his right ankle.
He landed heavily on his right arm as he tried to break his fall, and retired from the match shortly afterward.
"I have fractured my right elbow and sprained my ankle," a dejected Benneteau said. "The worst thing is the fracture, which means at least three weeks of immobility. I will then have to get the feeling back in my elbow."
The French Open starts in a little over five weeks' time.
"A lot of things crashed with me when I fell," Benneteau said. "I think it's finished for Roland (Garros)."
The 30-year-old Frenchman still hopes to play at the London Olympics.
"The first thing I thought about when I fell down was 'the games (are finished),'" Benneteau said. "But I will start working on my ankle on Monday. I'll do all I can (to be ready)."