Australian Open 2015: Djokovic into 3rd round for 9th year in a row
Melbourne, Australia: Novak Djokovic moved into the third round at the Australian Open for the ninth consecutive year with a 6-0, 6-1, 6-4 win Thursday over Russian Andrey Kuznetsov.Djokovic won the first set in 21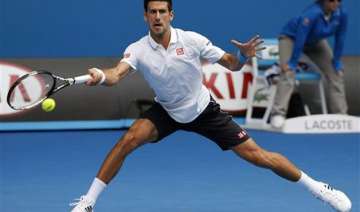 India TV News Desk
January 22, 2015 10:17 IST
Melbourne, Australia: Novak Djokovic moved into the third round at the Australian Open for the ninth consecutive year with a 6-0, 6-1, 6-4 win Thursday over Russian Andrey Kuznetsov.
Djokovic won the first set in 21 minutes and was rarely troubled against the 2009 junior Wimbledon champion. Kuznetsov broke the Serbian's serve to take a 2-0 lead in the third set, but Djokovic broke straight back and won six of the next eight games to clinch the match.
Djokovic has four Australian Open titles — his first Grand Slam title in 2008 and three in a row in 2011, 2012 and 2013.
He was beaten in the quarterfinals here last year — 9-7 in the fifth set — by eventual champion Stan Wawrinka. The pair could meet in the semifinals this year.