Fish Moves Into Kooyong Final With Win Over Melzer
Melbourne, Australia, Jan 13 : Mardy Fish beat Austria's Jurgen Melzer 6-2, 4-6, 6-1 on Friday to move into the final of the Kooyong invitational tournament against Australian teenager Bernard Tomic.Fish has had two wins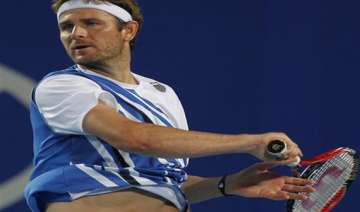 India TV News Desk
January 13, 2012 11:04 IST
Melbourne, Australia, Jan 13 : Mardy Fish beat Austria's Jurgen Melzer 6-2, 4-6, 6-1 on Friday to move into the final of the Kooyong invitational tournament against Australian teenager Bernard Tomic.

Fish has had two wins at the exhibition tournament that is a traditional warmup for the Australian Open, which begins Monday at Melbourne Park.

The 19-year-old Tomic, a Wimbledon quarterfinalist last year, beat Frenchman Gael Monfils to reach the final.

Andy Murray had a 6-3, 7-6 (8) win over David Nalbandian in a match that wasn't officially part of the tournament.

No. 4-ranked Murray, who won the Brisbane International last week, has lost the last two Australian Open finals and is desperate to end a drought for British men at majors that extends back to 1936.