Ivanovic Loses In 1st Round At Sydney Event
Sydney, Jan 8: Ana Ivanovic's preparations for next week's Australian Open hit another obstacle when the former No. 1 and 2008 French Open champion was beaten 7-6 (5), 6-2 by Lucie Safarova of the Czech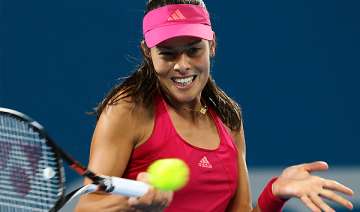 India TV News Desk
January 08, 2012 14:46 IST
Sydney, Jan 8: Ana Ivanovic's preparations for next week's Australian Open hit another obstacle when the former No. 1 and 2008 French Open champion was beaten 7-6 (5), 6-2 by Lucie Safarova of the Czech Republic on Sunday.

Ivanovic was defeated in the second round of last week's Brisbane International by Kim Clijsters, meaning the Serb will have had just three tournament matches going into the year's first Grand Slam at Melbourne Park beginning Jan. 16.

At 5-5 in the tiebreaker Sunday, Ivanovic missed an easy smash at the net which would have established a set point.

"I kept replaying that shot in my mind throughout the whole match," she said. "I felt like that was the turning point."

Ivanovic said she would travel straight to Melbourne to continue her preparations for the Australian Open.

"It gives me plenty of time to work on a few things and tune up a few things, but I feel my game is there," she said. "It's still going to be good to have a few days to work. I had a good offseason and I just want to try and keep at it."

Former Australian Open quarterfinalist and top 10 player Jelena Dokic beat fellow Australian Isabella Holland 6-0, 6-0.

The only other first-round match Sunday was suspended by rain in the third set with Dominika Cibulkova of Slovakia up a service break and leading China's Peng Shuai 6-2, 4-6, 4-3.

Top-seeded Caroline Wozniacki and Wimbledon champion and No. 2 seed Petra Kvitova have first-round byes in the joint ATP-WTA Sydney tournament.

Top-seeded Juan Martin del Potro and the three other top men's seeds also have first-round byes. There were no men's singles matches played Sunday.