Knapp, Meusburger reach Gastein Ladies semifinals
Bad Gastein, Austria, July 20: Karin Knapp of Italy routed second-seeded Annika Beck of Germany 6-0, 6-1 to reach her third semifinal of the season at the Gastein Ladies on Friday.The 69th-ranked Knapp avoided break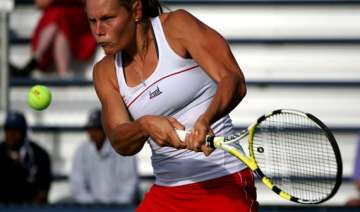 India TV News Desk
July 20, 2013 6:57 IST
Bad Gastein, Austria, July 20:
Karin Knapp of Italy routed second-seeded Annika Beck of Germany 6-0, 6-1 to reach her third semifinal of the season at the Gastein Ladies on Friday.
The 69th-ranked Knapp avoided break points and converted all five chances to break Beck's serve. Beck had beaten Knapp in straight sets in Nuremberg last month.
Knapp, who reached the last four in Slovakia and Colombia as well, will play Yvonne Meusburger of Austria for a place in the final.
Meusburger, coming off her second career final in Budapest last week, defeated Arantxa Rus of the Netherlands 6-1, 7-6 (1).
The Austrian failed to serve out the match at 5-4 before converting her first match point in the tiebreaker.