Li Back On Track After Poor 2nd Half Of 2011
Melbourne, Australia, Jan 15 : Li Na's 2011 was like a rollercoaster and, by the end, one she wanted to get off.A losing final at the Australian Open against Kim Clijsters and a win in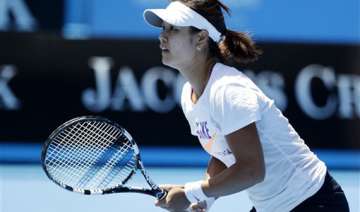 PTI
January 15, 2012 11:37 IST
Melbourne, Australia, Jan 15 : Li Na's 2011 was like a rollercoaster and, by the end, one she wanted to get off.A losing final at the Australian Open against Kim Clijsters and a win in the French Open final over Francesca Schiavone marked the high points.

Then the big dip in the second half of the year—a second-round loss at Wimbledon was followed by first-round defeats at the U.S. Open and her home tournament in Beijing and two defeats in the round-robin stage at the WTA Championships.

But a strong training regimen in the offseason, followed by a short break, has worked wonders heading into the Australian Open. Li won all three of her singles matches at the Hopman Cup and advanced to the Sydney International final, losing to Victoria Azarenka in three sets.

Li said she's feeling "healthy and strong" at Melbourne Park, where she'll play Krenia Pervak of Kazakhstan in the first round on Monday.

The 29-year-old Li told a Sunday news conference she worked out five or six hours a day in the offseason.

"I'm feeling more tough, not like the last half of last year when I was losing all those matches, it didn't matter who the opponent was," Li said. "But I'm happy with what I am doing right now."

That wasn't the case late last year when the notoriety of her French Open win—the first player from China to win a Grand Slam singles title—appeared to catch up with her.

"Tennis is such a tough sport, we're traveling all over the world," Li said. "I think we have the longest season ever. Every year we have 10, 11 months for tournaments. I don't know about other players, but I need time to recover. And of course, I was feeling a little bit of pressure."

That recovery came in a one-week break—"no fitness, no tennis, I just really needed to relax."

Despite her on-court problems in the second half of the year, her win at Roland Garros has raised her profile.

"A lot has changed in my life," Li said. "Right now it doesn't matter where I play in a tournament, so many fans know who I am, not like before."

And as if she really needed to add, a healthier bank account: "Of course, my agent is doing a good job, more sponsors are coming," she said, laughing.

Li's comical banter, most of it directed at her husband and coach, Shan Jiang, was a hit at last year's Australian Open.

She playfully complained over the two-week tournament that he kept her up at night snoring and that he controlled the credit card but had promised her she could use it if she won. There was a debate about their wedding anniversary date—he thought it was the day of her semifinal, she thought it was the day of the final.

"I make a lot of jokes about him, but it doesn't matter if you are fat or skinny, handsome or ugly. I will always follow you, always love you," she said with a smile last year during an on-court interview after one of her wins.
The fans at Melbourne Park will be hoping for more of the same this year, and Li sounds like she's ready to oblige."I've won six matches in a row, but in the second half of last year, I could not win three in a row," Li said. "I lost all confidence on the court, I wasn't hungry any more.
"But now I feel hungry again. I'm tough, I'm back."