Lleyton Hewitt says next Australian Open likely his last
Melbourne, Australia: Lleyton Hewitt says next year's Australian Open will likely be his last and, after he retires, he'll likely take over the country's Davis Cup captaincy.Hewitt, who turns 34 next month, was knocked out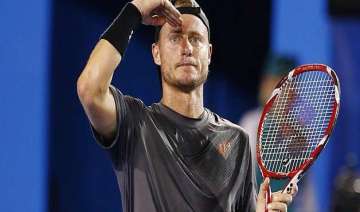 India TV News Desk
January 29, 2015 12:29 IST
Melbourne, Australia: Lleyton Hewitt says next year's Australian Open will likely be his last and, after he retires, he'll likely take over the country's Davis Cup captaincy.
Hewitt, who turns 34 next month, was knocked out in the second round of this year's Australian Open, his 19th, by Benjamin Becker.
The two-time major winner and former world No. 1 said he will play sparingly in 2015, with his focus on Wimbledon and the Davis Cup. He said he will "most likely" skip the French Open.
Current Davis Cup captain Pat Rafter is stepping down to become Tennis Australia's new director of performance. Former Australian player Wally Masur will take over as interim captain until Hewitt is ready to assume the role.