Nadal Beats Federer In Australian Open Semifinal
Melbourne, Jan 26: One round earlier than they're more used to meeting in Grand Slam tournaments, Rafael Nadal beat Roger Federer 6-7 (5), 6-2, 7-6 (5), 6-4 Thursday in the Australian Open semifinals.Set to meet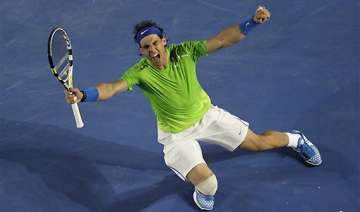 India TV News Desk
January 26, 2012 18:18 IST
Melbourne, Jan 26: One round earlier than they're more used to meeting in Grand Slam tournaments, Rafael Nadal beat Roger Federer 6-7 (5), 6-2, 7-6 (5), 6-4 Thursday in the Australian Open semifinals.

Set to meet in the semis because they were on the same side of the draw for the first time at a major since 2005, the players who have met eight times in Grand Slam finals played as if the championship would be decided on it.

This time, though, only Nadal will have the opportunity to win another title -- on Sunday night when the Spanish lefthander plays the winner of Friday's second semifinal between defending champion Novak Djokovic and Andy Murray.