Nadal In Umpire Blast After Line-Call Row
Melbourne, Jan 24: Rafael Nadal urged chair umpires to take more responsibility after a row over a line call at a crucial moment of his four-set Australian Open battle with Tomas Berdych on Tuesday.The Spanish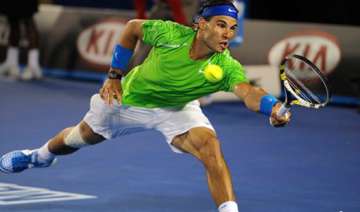 India TV News Desk
January 24, 2012 21:56 IST
Melbourne, Jan 24: Rafael Nadal urged chair umpires to take more responsibility after a row over a line call at a crucial moment of his four-set Australian Open battle with Tomas Berdych on Tuesday.

The Spanish second seed confronted chair umpire Carlos Bernardes near the end of the first set tiebreak, urging him to take action over a ball which he believed had gone out mid-rally.

The fuming Nadal was rebuffed -- and he lost the set on the very next point when Berdych sent down an ace. But Nadal fought back to win the quarterfinal 6-7 (5/7), 7-6 (8/6), 6-4, 6-3 in a marathon 4hr 16min.

Afterwards Nadal, who now goes into a mouth-watering semifinal with Roger Federer, suggested umpires had grown too reliant on Hawk-Eye line technology, and should do more than simply call out the scores.

"I'm not happy. They are there to do something, not just to call 15-all or 15-30 all the match. That's the only thing I'm unhappy about," he said.

"I think that with Hawk-Eye, the umpires have much less pressure than before," Nadal added.

"Carlos is a fantastic umpire, one of the best on tour. But for everybody the work now in matches is much easier. They don't feel as much pressure as before, because at the end, if you want to stop, you stop."

In a repeat of the 2010 Wimbledon final won by Nadal, the Spanish second seed struggled to impose himself early against Berdych.

The Czech seventh seed, unsettling Nadal with the power of his shot-making, missed a golden opportunity to take the first set when he squandered four set points in the 12th game but won the tiebreak after the line controversy.

Nadal missed out on a set point in the 12th game of the second set but he then saved a Berdych set point in the tie-break, and the pumped-up Spaniard levelled the match when the Czech went long.

Second seed Nadal began to seize the initiative as Berdych faded, taking the third set 6-4 and breaking in the first game of the fourth set with a searing forehand winner down the line.

And Berdych, whose previous match ended in bitterness after he accused Nicolas Almagro of deliberately targeting him with a forehand, could find no way back as Nadal sealed the win.

Hawk-Eye was at the centre of a furious bust-up involving David Nalbandian, who was refused permission to make a challenge at the climax of his five-set defeat to John Isner.

Nalbandian was later fined $8,000 for splashing water at a tournament worker, an accusation he strenuously denies.