Nadal Into Quarterfinals At Australian Open
Melbourne, Australia, Jan 22 : Rafael Nadal is into the Australian Open quarterfinals for the sixth straight year and a step closer to a possible semifinal showdown with Roger Federer after beating fellow Spaniard Feliciano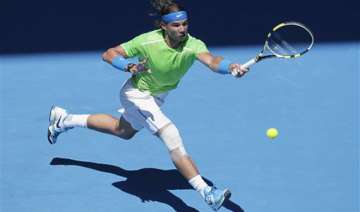 India TV News Desk
January 22, 2012 10:15 IST
Melbourne, Australia, Jan 22 : Rafael Nadal is into the Australian Open quarterfinals for the sixth straight year and a step closer to a possible semifinal showdown with Roger Federer after beating fellow Spaniard Feliciano Lopez 6-4, 6-4, 6-2 on Sunday.

Nadal, already with an injured and taped right knee, had his left ankle strapped by a trainer in the third game of the opening set, but appeared not to be bothered by either ailment for the remainder of the match. Nadal had only 14 unforced errors in the match.

Nadal, the 2009 champion, will next play the winner of the later fourth-round match between Tomas Berdych and Nicolas Almagro.Federer is playing his fourth-round match on Sunday night against Bernard Tomic.