Raonic through to 2nd round at Barcelona Open
Barcelona (Spain), Apr 24: Milos Raonic took advantage of local support to record his first clay-court victory of the year, beating Alejandro Falla of Colombia 6-4, 7-6 (3) in the first round of the Barcelona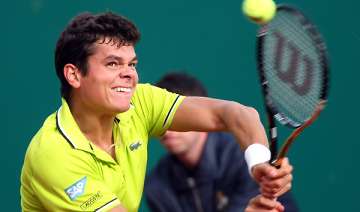 India TV News Desk
April 24, 2012 13:31 IST
Barcelona (Spain), Apr 24:
Milos Raonic took advantage of local support to record his first clay-court victory of the year, beating Alejandro Falla of Colombia 6-4, 7-6 (3) in the first round of the Barcelona Open on Monday.
The Canadian, whose training base is at Real Club de Tenis Barcelona, served seven aces in a closely contested match to win for the first time in a month.
Santiago Giraldo of Colombia beat the only seeded player to lose, winning 7-6 (3), 6-4 against No. 18 Denis Istomin of Uzbekistan.
Jarkko Nieminen of Finland and Robin Haase of the Netherlands also won.
Rafael Nadal's bid for a seventh Barcelona title begins later this week. The second-ranked Spaniard won the Monte Carlo Masters for the eighth straight time last week.