Russell Tops Fish In US Men's Clay Court
Houston, Apr 13: Qualifier Michael Russell took advantage of the ailing Mardy Fish for a 6-3, 6-1 victory Thursday in the second round of the U.S. Men's Clay Court Championship.Fish, the top seed in the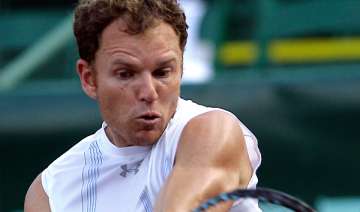 India TV News Desk
April 13, 2012 13:13 IST
Houston, Apr 13:
Qualifier Michael Russell took advantage of the ailing Mardy Fish for a 6-3, 6-1 victory Thursday in the second round of the U.S. Men's Clay Court Championship.
Fish, the top seed in the tournament and ranked ninth in the world, was playing for the first time since pulling out of Davis Cup competition against France for what he called a health issue.
"What happened a couple of weeks ago scared me," Fish said. "I'm not over it. Anyone could see I wasn't myself."
Fish's elimination leaves No.2 John Isner as the tournament favorite. The towering American sent down 16 aces in bating Argentina's Horacio Zeballos 6-7 (3), 6-4, 6-2.
In other second-round results, South Africa's Kevin Anderson beat American Sam Querrey in three tight sets, Juan Monaco of Argentina was a straight-sets winner over Japan's Tatsuma Ito and Ryan Sweeting won the all-American match against Bobby Reynolds.
The 136th-ranked Russell, 33-year-old Russell knew he had a great opportunity against a struggling Fish and recorded his first ever win over a top-10 ranked player.
"In the beginning, I thought he was playing pretty well and it was neck and neck and then his game definitely deteriorated big time," Russell said. "I just tried to ride the wave."
Fish hit only 52 percent of his first serves and had five double-faults.
"I was trying to take advantage of my service game and I took advantage of a lot of his unforced errors," Russell said. "It turned out great."
Russell said he was surprised that Fish played so quickly.
"He was playing very quick between points," Russell said. "It was unusual. When I'm up a break usually you'll take a little more time but he was kind of rushing through. I wasn't going to stop him. I wanted to keep the momentum going."
Fish said he wasn't certain about his next move.
"I'll get with family and try to sort some things out," Fish said.
Isner won 76 percent of his first serves and his big serve got stronger as the match went along.
"It was difficult to loss that first set, but I told myself to keep on my serve and that's what happened," Isner said.
Anderson, seeded fifth, had 13 aces and saved eight of 10 break points to edge Querrey 7-6 (3), 3-6, 7-6 (2). After taking a 6-2 lead in the final tiebreaker, Anderson won it at the first match point.
"I had to dig deep to get through that first set," Anderson said. "I played well in the tiebreaker. I played better than yesterday. I tried to be aggressive and I was able to do that."
Monaco, who beat Ito 6-3, 6-3, is 8-2 on clay this year and reached his third quarterfinal of the season. He will play Anderson in the quarterfinals Friday.
"Little by little, I played better and I deserved to win," Monaco said. "Hopefully, I will play better tomorrow."
Sweeting beat Russell 6-3, 6-2.