Serena Routs Stosur, Reaches Family Circle Final
Charleston, South Carolina, Apr 8: Serena Williams even impressed herself with her powerful showing at the Family Circle Cup on Saturday, beating Sam Stosur 6-1, 6-1 to advance to the final.Williams needed less than an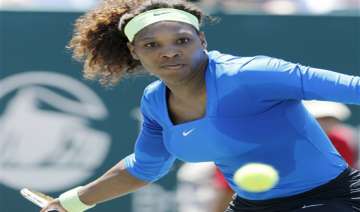 India TV News Desk
April 08, 2012 9:11 IST
Charleston, South Carolina, Apr 8:
Serena Williams even impressed herself with her powerful showing at the Family Circle Cup on Saturday, beating Sam Stosur 6-1, 6-1 to advance to the final.
Williams needed less than an hour to dispatch the second-seeded Australian -- the woman who beat her in last year's U.S. Open final -- and progress to the decider of this clay-court tournament.
"It was just one of those days that I could have done anything against anybody," Williams said.
The 10th-ranked player was on her game from the start, winning the match's first eight points and rarely letting Stosur catch a breath.
On Sunday, Williams will face Lucie Safarova, who had an even more lopsided victory, dispatching Polona Hercog 6-0, 6-0.
Stosur held serve to cut Williams' lead to 2-1, then lost the next nine games.
Williams hit a forehand winner to end the match moments later, and eliminated Stosur from a tournament for the second straight week. Williams beat Stosur 7-5, 6-3 last week at the Sony Ericsson Open, serving 20 aces -- tying per personal best -- in the hard-court win.
Williams only had seven aces in this one, but was in command of nearly every shot she hit.
"I have to say this is probably the best match I've played in my career, either in a long time or it's up there in the top five," Williams said.
Safarova has lost all four times she's played Williams. The 25-year-old from the Czech Republic watched the opening semifinal and said she'll have a plan to slow down Williams' attack. After all, Safarova didn't lose a game in her semi, something she joked about with Serena.
"'Yeah, I got you,"' Safarova told Williams when they saw each other after the match.
If Williams matches her Saturday effort in the finals, Safarova will have her hands full. "It's a great challenge. She's a great player," Safarova said, "and you see what she's done today."
Stosur, the 28-year-old ranked fifth, combines a powerful serve with the fitness to chase down about any shot. She rallied on Friday to defeat Serena's older sister, Venus, and was seeking to become just the eighth player to beat both Williams sisters in the same tournament.
Serena quickly made sure that didn't happen.
"She was way too good today," Stosur said. "She was pretty happy with the way she played."
The hole in Williams' Hall-of-Fame resume is clearly on clay. She owns 13 Grand Slam titles, but just one coming at the French Open. Williams beat sister Venus in 2002 for the championship at Roland Garros.
Serena reached the semifinals there the next year and has not made it past the quarterfinals in five appearances since.
Williams believes she's sliding better than she has in recent years and excited about her prospects on the surface this year.
"I'm trying to play like this at the end of the clay-court season," she said. "So we'll see."