US Open: Bhupati/Hingis out of mixed doubles
New York:  Mahesh Bhupathi and Martina Hingis fell 7-6 (5), 7-6 (5) to Chan Yung-jan and Robert Lindstedt in a mixed-doubles match marked by a number of disputed calls in the second-set tiebreaker.In the first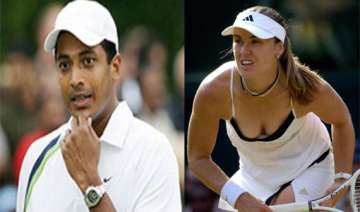 India TV Sports Desk
August 31, 2013 12:29 IST
New York:  Mahesh Bhupathi and Martina Hingis fell 7-6 (5), 7-6 (5) to Chan Yung-jan and Robert Lindstedt in a mixed-doubles match marked by a number of disputed calls in the second-set tiebreaker.
In the first match, while trailing 6-5 in the second set, Hingis served three double-faults, including on the final two points. One of the serves barely reached the net and another was nearly a foot long. Moments after that, she sat down and buried her face in her towel.
The end of the mixed doubles match was strange, with Bhupathi disputing a call for about a minute, then Lindstedt following with a pair of double-faults, the second of which came on a foot fault that compelled him to lightly toss his racket over the net.