Wimbledon Champ Kvitova Into Aussie Quarterfinals
Melbourne, Australia, Jan 23: Wimbledon champion Petra Kvitova recovered from an embarrassing air swing and a two-game lapse to beat Ana Ivanovic 6-2, 7-6 (2) on Monday for a spot in the Australian Open quarterfinals.Two-time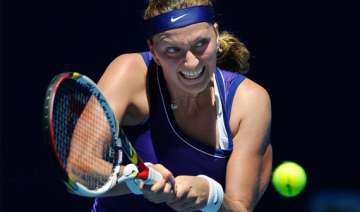 India TV News Desk
January 23, 2012 11:16 IST
Melbourne, Australia, Jan 23: Wimbledon champion Petra Kvitova recovered from an embarrassing air swing and a two-game lapse to beat Ana Ivanovic 6-2, 7-6 (2) on Monday for a spot in the Australian Open quarterfinals.

Two-time Australian Open runner-up Andy Murray only spent 49 minutes on court in the next match at Rod Laver Arena and was leading 6-1, 6-1, 1-0 when Mikhail Kukushkin retired from their fourth-round match with a left hip injury, giving him an easy path into the quarterfinals.

The 21-year-old Kvitova was seemingly fast-tracking her progress to the last eight until her game momentarily came undone near the end of the second set after she missed a routine overhead at the net to allow the former French Open champion to pull to 4-5.

She lost the next eight points to fall behind 6-5 — badly missing on a couple of wild groundstrokes — and only managed to force a tiebreaker with two big serves out wide in the 12th game.

Ivanovic's two double-faults early in the tiebreaker gave Kvitova some easy points and took the pressure off.

The match seemed close to ending much earlier when Kvitova got into perfect position to put away an innocuous lob from Ivanovic but played through the shot too quickly and was hit instead on the body.

"It was a very tough match at the end. I mean it was a really easy point then I thought I got it and I lost eight points in a row," she said. "I'm very happy I played very well in the tiebreak."

She'll next play Serra Errani of Italy, who beat 2008 semifinalist Zheng Jie 6-2, 6-1.

That ended China's hopes after French Open champion Li Na wasted four match points before losing to defending Australian titlist Kim Clijsters on Sunday in rematch of last year's final.

The temperature in Melbourne hit 32C (90F) on Monday and the sunny conditions made it difficult to serve from one end.

"It's obviously good for me, I get to conserve some energy," Murray said. "Tough for him, first time in the fourth-round of a Slam."

Murray said he slowed down his serve to improve his accuracy, but that was more because he wanted to work an ailing Kukushkin around the court.

"Sounds bad, but that was the tactic and it worked," said Murray, who had a narrow, three-set win over the Russian-born Kazakhstan player in a warmup tournament at Brisbane two weeks ago.

"I felt like I moved better — in Brisbane he came out swinging and I wasn't ready for it," Murray said.

Murray, the losing Australian Open finalist the last two years, will next play either 2008 finalist Jo-Wilfried Tsonga or Kei Nishikori of Japan.